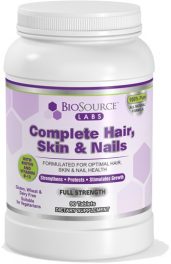 Complete Hair, Skin & Nails
BioSource Labs Complete Hair Skin & Nails is a perfect blend of essential vitamin, minerals, and whole foods formulated for optimal hair, skin and nail health. During a low calorie diet many dieters have trouble maintaining beautiful, lustrous, healthy hair. This formula provides fantastic nutritional support during the Complex Diet Drops diet. It is ideal for anyone looking to strengthen and improve the look of their hair, skin, and nails.
To achieve the full benefits of this nutritional powerhouse, you'll want to make sure you're eating healthy and drinking plenty of water. Whether you're a pro dieter or just getting started on your journey towards a new and healthier you, this supplement can provide some incredible health benefits when taken consistently on a daily basis.
Benefits for Complex Diet Drops Dieters
Complete Hair Skin & Nails is an Complex Diet Drops approved vitamin supplement, beneficial to Complex Diet Drops dieters both during the diet phase and following the successful completion of this diet plan. Taking this supplement will help provide adequate vitamin and mineral support during the Complex Diet Drops diet. Including this multivitamin in your daily health regimen following the successful completion of the diet can help give you  "the glow".
To maintain a healthy sheen during and after the diet, your body needs the vitamins and minerals provided by Complete Hair, Skin & Nails.
When to Take Complete Hair Skin & Nails and Storage
Dosage: 3 tablets daily with food.
For optimum results and health benefits, you should consider taking Complete Hair Skin & Nails multivitamin in the morning with breakfast, in the afternoon with lunch and in the evening with supper. You may wish to avoid taking the vitamin without food to avoid the possibility of an upset stomach or feeling nauseous. It's best to take with food.
By taking it in the morning when you're starting your day, you'll have all the energy you need to put your best foot forward throughout the day. When storing the Complete Hair Skin & Nails multivitamin, it's safe to store at room temperature when unopened but once opened you can store in your refrigerator to ensure freshness.
Key Ingredients and Benefits of Complete Hair Skin & Nails
These are just a few of the key ingredients and benefits that you'll discover when you take Complete Hair Skin & Nails daily:
Folic Acid: Commonly used to both prevent and treat low folate levels and insufficient nutrient absorption. Folic acid is also used to treat and prevent: heart disease, cancer, stroke, liver disease, kidney disease, ulcerative colitis, memory loss, hearing loss related to age, eye disease, weak bones, Alzheimer's disease and more. Folic acid is great for hair, skin and nail health.
Biotin: Biotin strengthens nails, improves hair health and is used to lower blood glucose levels.
Iron: Sufficient iron is needed within the body for overall growth and development. Iron works to effectively metabolize the body's much needed proteins while playing a key role in hemoglobin and red blood cell production.
Vitamin E: Used to treat and prevent heart disease, high blood pressure, and many other disorders. Helps to strengthen hair, nails and improves skin health. A well-known anti-aging, remedy ingredient and anti-acne ingredient. Improves physical endurance and helps to increase energy naturally.
Zinc: Keeps the immune system strong, helps heal wounds, and supports normal growth. Often used to fight infections, treat skin irritations, and heal acne, Zinc is an important mineral for hair, skin & nail health.
Magnesium: A mineral that's crucial to the body's function. Magnesium helps keep inflammation down, bones strong, and the heart rhythm steady.
Citrus Bio Complex: Contains some of the strongest flavonoid antioxidants, which help reduce inflammation, oxygenate tissue, and maintain normal blood pressure.
This product is gluten, wheat and dairy free. Suitable for vegetarians. 
Copyright © 2018 BioSource Labs LLC.
*Although there are no known side effects associated with the Complex Diet Drops diet, we recommend you consult your physician before starting any diet.
For Wholesale Pricing:
Call: 888-868-2607
FDA Nutritional Disclaimer: The dietary information provided by Complex Diet Drops is not intended to diagnose, treat, or cure any illness or to provide medical advice. We are not medical doctors and we do not prescribe medication. If you have any questions about the relationship between nutrition and supplements, we recommend that you seek advice of a qualified, licensed health practitioner. Complex Diet Drops is not approved by the FDA for weight loss. The Complex Diet Drops formula is produced from the highest quality ingredients in an FDA registered, GMP (Good Manufacturing Practice) certified facility. You are encouraged to make your health care decisions based on your own research and the advice of a qualified health care professional. Complex Diet Drops has not been demonstrated to be effective adjunctive therapy in the treatment of obesity. There is no substantial evidence that it increases weight loss beyond that resulting from caloric restriction, that it causes a more attractive or "normal" distribution of fat, or that it decreases the hunger and discomfort associated with calorie-restricted diets.