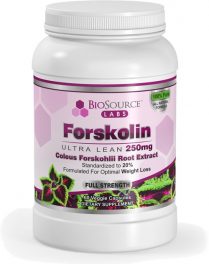 Forskolin Ultra Lean
Forskolin Ultra Lean has gained popularity as an effective weight management formula. Forskolin is an extract from the plant coleus forskohlii, a member of the mint family native to subtropical regions of Africa and Asia.
Coleus has a long history of use in ancient Ayurveda medicine. It has been used to support heart, lung and sexual health, among numerous other uses. More recently, scientists have discovered its benefits in helping reduce body fat, increase testosterone, and improve body composition.
Like all herbs, coleus contains a multitude of active compounds. However, the roots of the plant contain its most potent active ingredient, forskolin, which is largely believed to be the most beneficial substance derived from the plant. It has been used extensively in experimental clinical research as a positive control to effectively increase the levels of the important cellular messenger compound cAMP (cyclic adenosine monophosphate). In our body, cyclic AMP helps our cells communicate. An increase in cAMP is a signal that can cause an anti-inflammatory response in the body.
What Does Forskolin Do?
As a supplement, forskolin is used to support fat burning and energy levels, but has also been proven to be an effective natural testosterone booster.
One of the most rigorous and promising studies concerning supplemental forskolin was conducted by researchers at the University of Kansas a few years ago. They found that overweight and obese men lost more than 7.8 times more body fat, added 35 percent more bone mass, and increased their bioavailable free testosterone by almost 34 percent more when they added 250 mg of a 10 percent forskolin-containing coleus to their otherwise unchanged daily lives, twice per day. In other words, 50 mg of total forskolin per day—as compared to subjects who consumed a placebo—realized a significant improvement in both body composition and testosterone levels.
Copyright © 2018 BioSource Labs LLC.
*Although there are no known side effects associated with the Complex Diet Drops diet, we recommend you consult your physician before starting any diet.
For Wholesale Pricing:
Call: 888-868-2607
FDA Nutritional Disclaimer: The dietary information provided by Complex Diet Drops is not intended to diagnose, treat, or cure any illness or to provide medical advice. We are not medical doctors and we do not prescribe medication. If you have any questions about the relationship between nutrition and supplements, we recommend that you seek advice of a qualified, licensed health practitioner. Complex Diet Drops is not approved by the FDA for weight loss. The Complex Diet Drops formula is produced from the highest quality ingredients in an FDA registered, GMP (Good Manufacturing Practice) certified facility. You are encouraged to make your health care decisions based on your own research and the advice of a qualified health care professional. Complex Diet Drops has not been demonstrated to be effective adjunctive therapy in the treatment of obesity. There is no substantial evidence that it increases weight loss beyond that resulting from caloric restriction, that it causes a more attractive or "normal" distribution of fat, or that it decreases the hunger and discomfort associated with calorie-restricted diets.