About Complex Diet Drops – Ingredients
Complex Diet Drops is a unique blend of over 25 different ingredients to help reduce hunger and burn fat by helping activate your body's natural production of the hormones that trigger advanced weight loss. Complex Diet Drops helps your body quickly burn unwanted fat, while helping to protect and retain more lean muscle. This proprietary Complex Diet Drops activation complex was carefully formulated to provide healthy cellular function for optimal weight loss.
In order to discover the perfect balance of each ingredient that will provide our customers with an incredible diet experience, BioSource Labs has dedicated several years and an incredible amount of resources on research and development. Complex Diet Drops contains a powerful essential and non-essential amino acid profile, coupled with an herbal blend that work together synergistically to get your body into an optimal fat-burning mode. This formula is specifically engineered to help stimulate your body's natural hormone production (endogenous hormone production), instead of ingesting or injecting hormones from an external, oftentimes unknown source (exogenous hormones).
On average, our customers report that when using all-natural, hormone-free Complex Diet Drops in conjunction with the original diet protocol, Complex Diet Drops helped them achieve comparable weight loss benefits to other diet drops or injections without the potential negative side effects that come from stimulants and hormones.
Using Complex Diet Drops to help naturally trigger your body's ability to access and mobilize deep stored fat is a safe, effective alternative to pharmaceutical diet drops and injections, helping you avoid the risks of unnecessary exogenous hormone dosing.
Proprietary Complex Diet Drops Activation Complex:
L-Glutamine, L-Tyrosine, L-Arginine, Beta-Alanine, L-Carnitine, L-Ornithine, L-Tryptophan, Chromium Picolinate, Monoammonium Glycyrrhizinate, GABA,  Raspberry Ketones, Irvingia Gabonensis (African Mango) Extract, Coleus Forskohlii Root Extract, Camellia Sinensis (Green Tea) Extract, Panax Ginseng Extract, Guarana Extract, Lepidium Meyenii (Maca) Root Extract, Astragalus Membranaceus Root Extract, Gymnema Sylvestre Leaf Extract,Vitis Vinifera (Grape Seed) Extract, Fucoxanthin Extract, Eleutherococcus Root Extract, Capsicum Annum Extract, Citrus Paradisi (Grapefruit) Seed Extract
Inactive Ingredients: Deionized Water, Organic Citrus Extract, Stevia, Xylitol, Potassium Sorbate
We have helped many thousands of people achieve their weight loss goals with Complex Diet Drops. The feedback we get from our customers who have compared weight loss results from our drops and from pharmaceutical diet drops and injections, is that there is virtually no difference. In many instances, customers report feeling better and achieving better results than with injections. It is no surprise our product has remained so highly rated among consumers.
Where Is It Made?
Complex Diet Drops is manufactured in the USA. It is produced from highest quality ingredients in an FDA registered, GMP certified facility. This allows our customers the peace of mind knowing we adhere to the strictest quality and manufacturing standards.
COMPLEX DIET DROPS LABEL AND INGREDIENTS: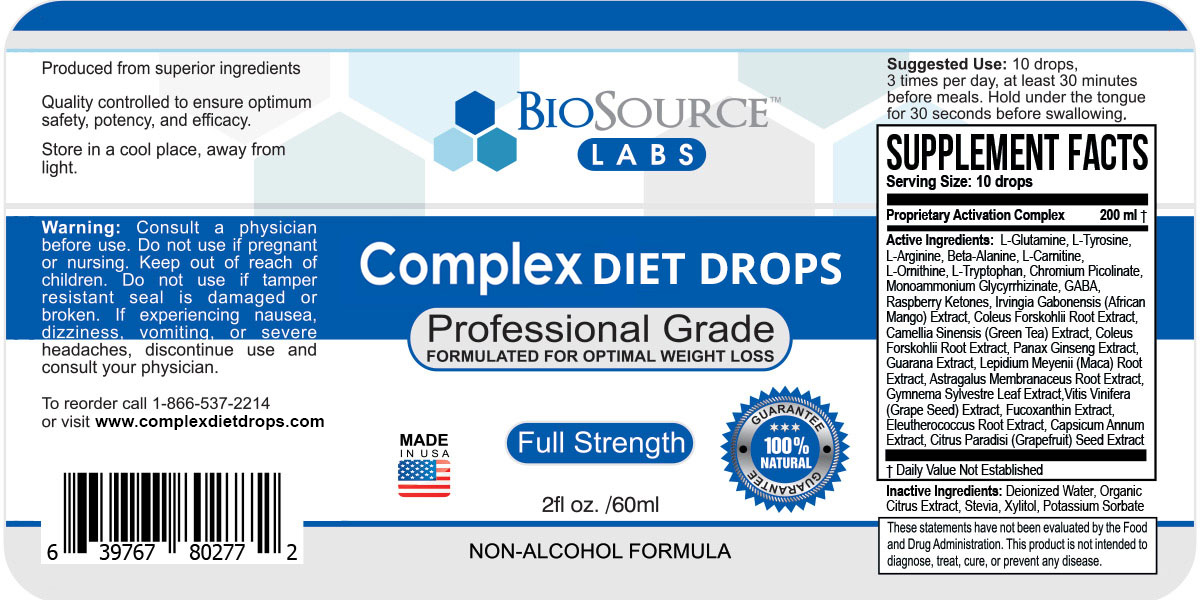 Copyright © 2018 BioSource Labs LLC.
*Although there are no known side effects associated with the Complex Diet Drops diet, we recommend you consult your physician before starting any diet.
For Wholesale Pricing:
Call: 888-868-2607
FDA Nutritional Disclaimer: The dietary information provided by Complex Diet Drops is not intended to diagnose, treat, or cure any illness or to provide medical advice. We are not medical doctors and we do not prescribe medication. If you have any questions about the relationship between nutrition and supplements, we recommend that you seek advice of a qualified, licensed health practitioner. Complex Diet Drops is not approved by the FDA for weight loss. The Complex Diet Drops formula is produced from the highest quality ingredients in an FDA registered, GMP (Good Manufacturing Practice) certified facility. You are encouraged to make your health care decisions based on your own research and the advice of a qualified health care professional. Complex Diet Drops has not been demonstrated to be effective adjunctive therapy in the treatment of obesity. There is no substantial evidence that it increases weight loss beyond that resulting from caloric restriction, that it causes a more attractive or "normal" distribution of fat, or that it decreases the hunger and discomfort associated with calorie-restricted diets.