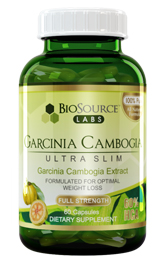 Garcinia Cambogia Ultra Slim
Garcinia Cambogia Ultra Slim is an extremely effective, dual-action weight management formula that our scientists created for optimal weight loss while maintaining a regular diet. It has quickly become a top seller because of it's clear health benefits with minimal dietary or lifestyle changes.
Garcinia Cambogia is a small, pumpkin-shaped fruit, otherwise referred to as the tamarind fruit. It comes from Southeast Asia, where native people have used it for centuries to aid in treating a variety of digestive ailments. Scientists have studied this fruit extensively, and have discovered it contains many health promoting properties.
Among many of its known health benefits, scientists found that Garcinia Cambogia Extract does two things very well:
Helps suppress the appetite and increase levels of serotonin in the brain, which helps combat the production of cortisol (The stress hormone responsible for weight gain).
Helps reduce the body's production of fat and signals to the liver to convert more fat to usable energy.
Recommended Usage: 2 Capsules per day (1500mg), at least 30 minutes before meals. Best used for helping suppress hunger, inhibiting the body's natural production of excess fat. Ideal for anyone who simply wants an easy way to steadily shed fat.
SEE WHAT THE PROFESSIONALS ARE SAYING
The substance in Garcinia Cambogia Extract that is responsible for much of this is called HCA (Hydroxycitric Acid).
In a recent study at Georgetown University Medical Center, 60 obese patients were given HCA daily and monitored over the course of 8 weeks, and the results were shocking. There was an average body weight decrease of 5%-6% while subjects maintained a 2000 calorie per day diet. Subjects also showed to be ingesting less food as the 8 weeks moved along.
Reference: https://www.ncbi.nlm.nih.gov/pubmed/15056124
WARNING: NOT ALL GARCINIA CAMBOGIA SUPPLEMENTS ARE CREATED EQUAL – READ BELOW!!!
Because of its popularity, there are many companies selling cheap Garcinia Cambogia products, full of fillers and other unnatural ingredients. Many don't even provide a potent enough of a dosage to make a difference in your body. 
Here is a bullet list of criteria which some doctors recommend looking for when purchasing Garcinia Cambogia Extract:
DOCTOR RECOMMENDED SUPPLEMENT CRITERIA
Says Garcinia Cambogia, GCE or Garcinia Cambogia Extract on the label
Contains at least 50% HCA (Hydroxycitric Acid)
Contains no additives, binders, or fillers
Provides a daily serving of at least 1500 mg
May absorb better when combined with Potassium and Calcium
GARCINIA CAMBOGIA ULTRA SLIM MEETS CRITERIA
Garcinia Cambogia Ultra Slim actually exceed the recommended criteria:
100% Pure Garcinia Cambogia Extract
Contains 95% HCA
Veggie Capsules
No additives, fillers, or binders
Daily serving of 1800 mg (1710 mg HCA) and 225 mg Potassium
All our manufacturing facilities are based in the USA. They are registered with and inspected by the FDA. This means that we adhere to very strict quality standards. With us, you'll never have to wonder if you're getting the anything but the best!
Garcinia Cambogia Ultra Slim is 100% natural, and perfect for weight maintenance. Although no dietary or exercise changes are required, you will enhance your results by having a regular exercise routine and by eating a healthy diet.
Whether you are on the VLCD (very low calorie diet), or you are starting the maintenance phase, Garcinia Cambogia Ultra Slim can help you maximize your weight loss results!
100% All-Natural Ingredients:
| | |
| --- | --- |
| Ingredients | Benefit |
| Potassium (as potassium gluconate) | Helps lower sodium levels which can result in lower blood pressure |
| Garcinia Cambogia (95% HCA) | Helps increase serotonin levels resulting in decreased appetite |
Copyright © 2018 BioSource Labs LLC.
*Although there are no known side effects associated with the Complex Diet Drops diet, we recommend you consult your physician before starting any diet.
For Wholesale Pricing:
Call: 888-868-2607
FDA Nutritional Disclaimer: The dietary information provided by Complex Diet Drops is not intended to diagnose, treat, or cure any illness or to provide medical advice. We are not medical doctors and we do not prescribe medication. If you have any questions about the relationship between nutrition and supplements, we recommend that you seek advice of a qualified, licensed health practitioner. Complex Diet Drops is not approved by the FDA for weight loss. The Complex Diet Drops formula is produced from the highest quality ingredients in an FDA registered, GMP (Good Manufacturing Practice) certified facility. You are encouraged to make your health care decisions based on your own research and the advice of a qualified health care professional. Complex Diet Drops has not been demonstrated to be effective adjunctive therapy in the treatment of obesity. There is no substantial evidence that it increases weight loss beyond that resulting from caloric restriction, that it causes a more attractive or "normal" distribution of fat, or that it decreases the hunger and discomfort associated with calorie-restricted diets.